LOCAL AREA, walking & wildlife
There are fantastic beaches at Runswick Bay, Sandsend, Robin Hood's Bay and Saltburn. As well as the ever popular Whitby which offers whale watching, harbour boat trips, and the Captain Cook Memorial Museum; and Whitby Museum with displays of the town's whaling, shipping, and geological history, including some impressively large fossils!

There are a wealth of museums and historic sites to visit including Pickering Castle, Helmsley Castle, Scarborough Castle, Whitby Abbey and Rievaulx Abbey. Malton described as 'Yorkshire Food Capital, The Yorkshire Arboretum and North Yorkshire Water Park are just a few other ideas of places to visit as well as the historic city of York.
The world famous North York Moors Railway (as seen on TV) runs from Pickering to Whitby, through Grosmont, where you can visit the engine sheds, where the steam locomotives are maintained and restored; as well as the ever popular Goathland with nearby Mallyan Spout.

Just along the valley you will find the pretty villages of Lealholm, Rosedale, Hutton-le-Hole with Ryedale Folk Museum, and Lastingham with St Mary's Church famous for its eleventh-centre crypt.

The nearby North York Moors National Park Visitors Centre in Danby has an exhibition area, gallery, cafe, shop and outdoor adventure play area; and offers a wealth of information on local events, maps, books and guides to the local area. There are many walks from the Visitors Centre including a circular walk to visit Danby Castle. Danby Beacon is about a mile from the visitor centre with a car park at the top and spectacular panoramic views across the moor and sea.

Situated between the village of Danby and Castleton we are lucky to be in one of the best places to see stars with the Danby Moors Centre designated as a Dark Sky Discovery Site.
Just down the lane from us you will find Botton Village where there are several farms and a workshop, cafe, and shop, selling Botton made foods and other produce.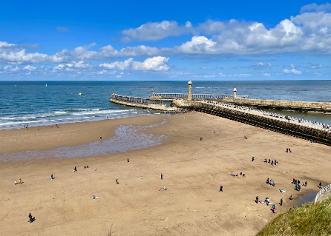 Walking
Whether you enjoy a gentle stroll or a good long hike, there are footpaths from our doorstep going in every direction. There are 1400 miles of documented walks on the North York Moors, taking in the stunning moorland, beautiful forests and coastline of North Yorkshire. Many of these walks are linked by the Esk Valley train line enabling you to return to your starting point if needed.
St Hilda's Way is a new 43-mile footpath which passes Church House Farm, Danby. The walk starts in Hinderwell and ends at Whitby Abbey and is in celebration of the life of St Hilda, Anglo-Saxon Princess who hosted the Synod of Whitby, as the first Abbess in 664. The walk passes by places dedicated to St Hilda including our St Hilda's Church, Danby, and continues on through the beautiful North York Moors before reaching Whitby Abbey.
The Esk Valley Walk is a 37-mile trail that follows the river Esk from its source high on the North York Moors to the coast, ending in Whitby. We are also well situated for you to complete stages of the Coast to Coast and the Cleveland Way routes.
Captain Cooks Monument stands at Easby Moor overlooking Great Ayton. There is a 7-milk circular walking route taking in Captain Cooks Monument and Roseberry Topping. Often referred to as Yorkshire's Matterhorn, Roseberry Topping's dramatic shaped summit cut away on one side is a legacy of extensive mining industry over the centuries, and from the top you get a stunning panoramic view over to the coast and moors.
Walking routes on the North York Moors offer endless possibilities go to The North York Moors National Park website to find a series of walking routes available to download.
Cycling and Horse Riding
The North York Moors National Park is a fantastic place for holidays with quiet country roads, bridleways, moorland and woodland tracks. Plenty of cafes and traditional pubs to stop off at as you pass through the moorland villages, and coastal towns.
Close by is the Yorkshire Cycle Hub with cycle shop, bike hire and cafe. The Moor to Sea Cycle Network has around 150 miles to explore through the heart of the North York Moors National Park. Dalby Forest and Guisborough Forest are also both close by and offer a range of graded mountain bike routes.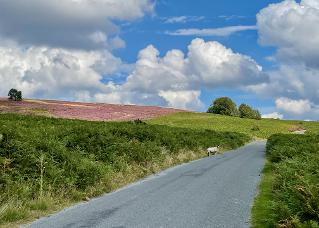 Wildlife
Church House Farm is a fantastic place for wildlife from the buzzards, kites and kestrels that soar high above our heads to the swallows and swifts who return to us each year our greatest delight is a glimpse of the barn owls or hearing the hooting of the tawny owls and little owls sitting in the big oak tree. Small mammals we commonly see are rabbits, hares, moles, stoats, pipistrelle and lesser horseshoe bats. The wildlife pond has mallards and moorhens and around the property we see pheasants, starlings, goldfinch, chaffinch, pied wagtails, grey wagtails, spotted flycatchers, wrens, robins, blackbirds, cold tits, blue tits, sparrows and pheasants to keep us entertained. Then look closely and you will see butterflies and moths including the hummingbird hawkmoth, dragonflies and at least a dozen species of bumblebees, and insects galore!